In CALP, we developed a toolbar for our video player. There is a repeat button in the toolbar.
This small button is a very useful tool. It is very helpful for teachers, parents, and students.
The videos for primary section (Class 1 to Class 5) are short. If you press this repeat button while watching a video, the video will keep repeating unless you uncheck repeat button. This is how you can use it.
Teacher in classroom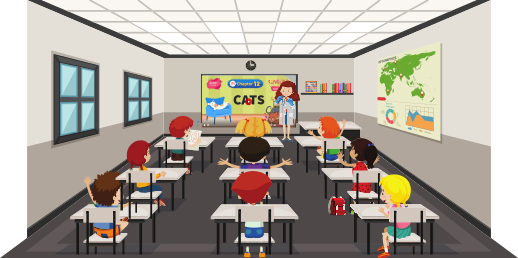 The first skill in a language learning program is listening skill. CALP videos are also made to improve listening skills. These videos are colorful and voice-over's pace is slow. This helps students improving listening skills and also helps to make a mental model of new words. When students are in class and if these videos are being played on a projector or smart-board than all students can watch these videos together.
It is important to play each video 3-4 times in the classroom based on your lesson plan. This will help students to get used to listening to the story or the poem and comprehend it. After 3-4 times of playing this video in front of students, you can move to "repeat after me" or "Speak and confirm" videos of the same story. The more they practice the more their chance to learn the English language will improve.
Parents / Personal Tutor

Parents can give a smartphone or tablet to the student and press this repeat button. The video will keep playing until you uncheck the repeat button. This will give your child a chance to comprehend the video. After that, you can play "repeat after me" and "Speak and confirm" version of the same video.
At calp, we work very hard to ensure that your students, children get the correct material to learn English. Please let us know your views on the material and any feedback which you think will improve your child's English.